Each recession has a different impact on the housing market and on the jobs market. The recession of 2022 definitely proves that point, if there is definitely a recession. Economists, companies, politicians, investors and workers are still in disagreement whether the U.S. is even in a recession at all. Some parts of the economy are in recession — and housing is one of them for sure!
Collectors Dashboard generally discusses the market of high-end collectibles. This housing market situation is a different matter. Americans' number one wealth building asset over time is the home they own and live in. Many homeowners have almost no significant investment in the stock market. Your home is a forced savings vehicle and even a small home can be worth hundreds of thousands of dollars by the time a person makes their last mortgage payment. A significant housing plunge could have a big ripple in many aspects of certain collectibles.
The classic definition of a recession (which has been expanded over time) was two consecutive quarters of Gross Domestic Product (GDP) contraction. That has been seen in 2022 with the Q1 and Q2 GDP reports. Outside of the jobs market, the market that matters most in the economy is the housing market. It impacts mortgage, rents, mobility and has immediate impacts elsewhere on spending. The housing experts have already been sounding the recession alarm as it pertains to housing. Just don't think of this recession as a crash unless additional and unexpected deterioration is seen.
Do collectors care about their home value? Should a home even be brought up in the same light as collectibles? For some people, absolutely! In some respect it is like asking if investors care about their home value. It matters, at least to many.
The U.S. economy is experiencing 40-year highs in inflation. The Federal Reserve is on the largest interest rate hike campaign that any and all of the Fed presidents have been involved in. We still have the effects and risks from Russia's invasion of the Ukraine. Retail spending is being dampened due to prices and having to make choices of certain items over others. Corporate earnings are under pressure. Auto sales are still down handily from pre-pandemic years. Most retail sales data represent a strapped consumer. And, again, the experts who report about the housing market are signaling that we are now in a housing recession.
Before you worry too much about suddenly being stuck in your home forever, there are some positives that may make the entire worry go away. The jobs market may have softened but it is still incredibly strong. The jobs market, and corporate and government spending, may be the best points for the "we are not in a recession" argument. Purchasing managers data was last seen under the breakeven line, but not deep into contraction. There is now also the $700 billion Inflation Reduction Act even if some refer to it as the "Inflation Continuation Act." And now billions upon billions of dollars will be forgiven for student debt.
The question you need to ask yourself is whether or not you are prepared for the value of your home to plummet. Keep in mind that if you bought your home in 2020 or before, the value of the home may have risen 25%, 50%, or even more than doubled (or more) if you have owned it more than a few years. And as long as the economy supports the work from home model, where you live may not matter like it did up until the most recent years.
Here are 15 trends and observations to watch after the 2022 National Sports Collectors Convention!
FRESH HOUSING READS ARE BAD!
While small businesses are dubbed the backbone of the American economy, the housing market is the true backbone for individuals in the economy. There are multiple reads on the housing market, and while some of the data is still stronger than historic reads, that are pointing directly to a recession in housing. That data is from the National Association of Realtors, National Association of Home Builders, Moody's and more.
Lawrence Yun, chief economist for the National Association of Realtors, said point blank — "We are in a housing recession." in August after July's home sales data was the sixth consecutive month of decline (the longest streak in 8 years). Sales of previously owned homes were down 5.9% for July to an annualized 4.81 million units. The other recessionary aspect of housing is that the median price of existing homes fell to $403,800 in July after a record $413,800 median price in June.
The August report from the National Association of Home Builders was even titled "Housing Recession Deepens." The numbers showed that only 42.8% of new and existing homes were actually affordable for a typical family. The NAHB cited rising mortgage rates (roughly 6%), high inflation, low existing inventory and elevated home prices and suggested that the affordability level in the second quarter of 2022 was the worst since the Great Recession. The NAHB also cited significant declines in existing home sales, new home sales, single-family permits and single-family starts; and they further pointed to some markets now seeing price declines.
Even in June of 2022, Moody's Mark Zandi was warning that the US housing market was on the verge of a nationwide price correction while interest rates were rising. At that time, fewer mortgage applications were being seen. Homes were already sitting on the market longer, and many sellers were already cutting their for-sale prices. And markets in Boise, Phoenix, Florida, the Carolinas and elsewhere were being touted as significantly overvalued. And in August, Zandi's call from Moody's was that some city and regional housing markets will likely see some meaningful price declines. His baseline call is that home prices will fall up to 5% on average in the coming year, with a drop of 5% to 10% if a recession does hit. Below is a map tweeted out by @FortuneMagazine showing 183 regional housing markets of the 413 tracked markets that could see home prices drop by up to 20%.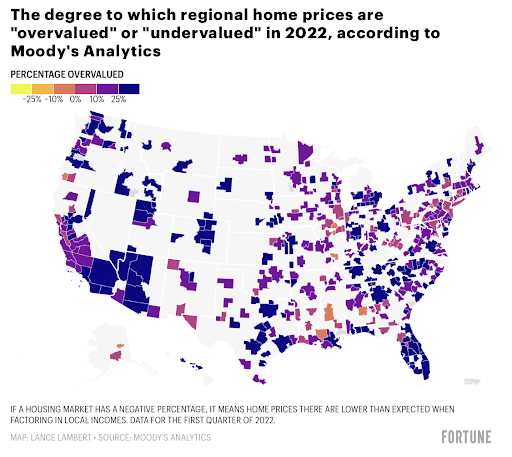 The real estate listing service Redfin also showed some recent cracks in home trends. In July they reported that about 60,000 pending home sales fell through in June, about 15% of the transactions that went into contract. That's effectively about 1-in-6 home sales going under contract falling thru. It was also the highest cancellation rate since April of 2020 when workers had barely been under forced stay-at-home measures for a month due to Covid.
THE JOBS MARKET HAS RISKS TOO
The latest read on the jobs market is that unemployment's official rate is roughly 3.5%. That is for all practical purposes a re-continuation of pre-pandemic years for lower and lower unemployment. It is much healthier than the natural rate of unemployment and due to transitory and transitionary factors in economics we should probably never expect unemployment of less than 3%. It is important to understand that the unemployment rate and payrolls are considered lagging indicators in economics — things have to be bad before layoffs start and things have to have recovered before rehires take hold. It's just economics.
What has happened is that jobless claims have crept up from under 200,000 per week to about 250,000 per week. That doesn't matter if the payrolls keep rising by 200,000 or 300,000 each month, but it does matter if weekly jobless claims get back above 300,000 or if the payrolls start to decline. The most recent continuing jobless claims, those who have already been on unemployment benefits, is still rather tight at 1.42 million.
Goldmans Sachs has recently opined that companies that have announced layoffs, hiring freezes or a slowdown in hiring have cut their job listings by 40% in recent months.
An August report from PwC showed that 50% of corporations now anticipate a reduction in overall headcount (layoffs and attrition). The same PwC report, made up from 722 executives in August, showed that 52% of executives expect a hiring freeze and also that 44% of executives expect to be rescinding job offers.
If there is a serious uptick in layoffs and more widespread hiring freezes and lower job openings, then it means that the larger companies will have already continued to lower their forward expectations on sales and earnings. We have yet to see how a mandatory 15% corporate income tax for the largest companies will pan out as well.
BUT… IS THIS REALLY A PANIC?
As previously noted, every recession is different. This recession is very different from the Covid shutdown and global financial crisis. It's different than the Dot-Com Bubble bursting and it's different than the business environment rigjht on the heels of the mass layoffs immediately after the 9/11 terror attacks of 2001.
Despite all of the jaw-boning about layoffs and risks to labor, U.S. employers still added more than 500,000 payrolls in July alone. The layoff rate in June was also close to historic lows.
And there is that free government money that will trickle into the economy from the Inflation Reduction Act and from indebted students being forgiven some of the student loan money they would otherwise have to pay. Those funds are not going to be instantly seen in the economy but they will trickle in. And if people don't have to pay as much in month student debt payments, they have more money that can be spent on goods and services or which can be invested or put into savings.
And before you hit the total panic button about a recession, the current expectations show that the third quarter of 2022 will not be a negative number. The Atlanta Fed's GDPNow live reading is suggesting that third quarter GDP will rise by 1.6% on August 26. That was actually a 0.2% uptick from the prior estimate on August 24. The Atlanta Fed cited a rise in third-quarter real net exports being partially offset by a decrease in third-quarter real personal consumption expenditures and third-quarter real gross private domestic investment.
Some will tout a positive third quarter GDP reading as a recovery that proves the economy is not in recession. This is actually just the math of being shown as a year-over-year comparison, and the deflator and real GDP readings need to be looked at closely to see how much the GDP growth is impacted solely by higher prices. If you are simply paying 10% more for items but trim the number of items and services by 10%, that is not really a zero-percent move in the economy. It means 10% fewer goods and services are being consumed but at higher prices.
AND WHAT ABOUT COLLECTIBLES?
Most people would assume that the market for collectibles would be crushed in a recession. The opposite happened in 2020 and into 2021, but many aspects of collectibles pricing have come down over the last year. Some have even cratered. Still, others have continued to flourish. Here are some key points to consider in collectibles at the high end–
Stock Splits for Fractional Mickey Mantle Card? You Bet!
Million-Dollar Coin Sales Keep Happening – Yes they do!
Babe Ruth Cards Still Findable Under $1,000 – Barely, but yes!
Honus Wagner Tobacco Cards Under $100,000 – Actually, Yes!
Will Hank Aaron Be the Next $1 Million Card? Here is how!
Will this Mantle Be the First $10 Million Card?