Ty Cobb was one of baseball's greatest players ever. He was in the inaugural class of baseball players inducted into the Hall of Fame. He held multiple records as a player, some of which lasted for decades. Cobb wasn't known for being friendly, but he was disciplined beyond what almost any ball player back in the day could have conceived.
Collector's Dashboard wanted to offer up a card tribute as well as other memorabilia to Ty Cobb, born on December 18,1886. Before that, here are some stats and accomplishments. This is a living tribute and more can be found by following @CollectorsDash1 on Twitter.
Cobb was just 18 years old when he joined the Detroit Tigers in 1905, and he been recruited to play for smaller regional teams as a teenager. Some of Cobb's principles would fit within any star athlete's regimen today. These were demonstrated in part in 'My Twenty Years in Baseball' that was a collection of self-written newspaper articles by Cobb himself.
Ty Cobb was the MVP in 1911, and he won the Batting Champion title 12 times (or 11, depending) and won the Triple Crown 1 time. His career batting average was .366 and that is a record that still stands to this day. His on-base percentage was .433 and his slugging was .512 for his career. Cobb also managed to rack up 117 home runs, not bad for the "dead ball era." He also had 1,944 runs batted in and had 2,245 runs. Cobb tallied up 4,189 hits in his career and had the league record for 893 stolen bases for decades.
Even at the age of 41, he managed to hit .323 in 95 games of his final 1928 season. And Cobb only hit under .33 in that first 1905 season with 41 games. Every year thereafter was well above the .300 mark, and he managed .400 or better in 3 seasons. All of this was accomplished by the explanation of simply hitting the ball square on.
His 151.5 WAR (wins above replacement) is still sixth on the all-time list and the only modern era player that is head of (at 162.7) is Willie Mays. And a personal favorite 'Cobb-ism' about the early days of baseball is described quite well in this Ty Cobb Quote:
When I began playing the game, baseball was about as gentlemanly as a kick in the crotch.
So, here are some of those baseball cards meant to be a tribute to one of the greatest men to ever play baseball. Some are personal, but we are adding to the montage by Tweets and whatever gets emailed in.
This first batch of cards is in order left to right and top row first: Top list – T206 (red portrait); T206 (green portrait); T216 Kotton (batting); 1910 E-UNC Candy (Anonymous). And bottom list – T205; T206 (Bat-off shoulder); T213 Coupon; 1912 T227 Honest Long Cut.
Collectors Dashboard witnessed this massive Ty Cobb card collection loaded up with T206 cards, including the infamous and quite rare"Ty Cobb brand back" s that were up in this auction as they were on display at Heritage's booth at the National Sports Collectors Convention 2021. To say that it was an impressive display was an understatement. Imagine seeing almost every variation of a T206 Ty Cobb card that exists. There are four different images of Cobb that were used by The American Tobacco Company from 1909 to 1911 with Broad Leaf, American Beauty, Carolina Brights and so on).
The most expensive Ty Cobb baseball cards auctioned off by auction house (incomplete list and in no ranked order):
SCP Auctions — 1909-11 T206 Ty Cobb (Bat off shoulder) PSA 9 sold for $488,425.00 in mid-Summer Classic Auction 2016; and the 1914 Texas Tommy E224 Type 1 PSA 1 (Yahtzee Box Find) for $141,480.00.
Heritage Auctions — 1915 Cracker jack Ty Cobb #30 PSA 9 sold for $504,000 in April 2019 after an identical card with a different PSA certification number (not same card because lower cert.#) sold for $432,000 in June 2017.
Robert Edward Auctions — 1902-1911 W600 Sporting Life Cabinet Ty Cobb (Rookie) sold for $300,000 in the Spring 2020 Auction.
Goldin Auctions — 1910 E98 "Set of 30" Ty Cobb, Red PSA GEM MINT 10 sold for $264,000.00 in Spring 2019 Premium Auction (May 11, 2019)… and Goldin sold a SGC perfect 10 1910 E98 Ty Cobb (Black Swamp Find) sold for $218,400.00.
And more Ty Cobb cards are featured below, some with a brief explanation.
Image below at Dave's Vintage baseball Cards (gfg.com//baseball/cobb.shtml)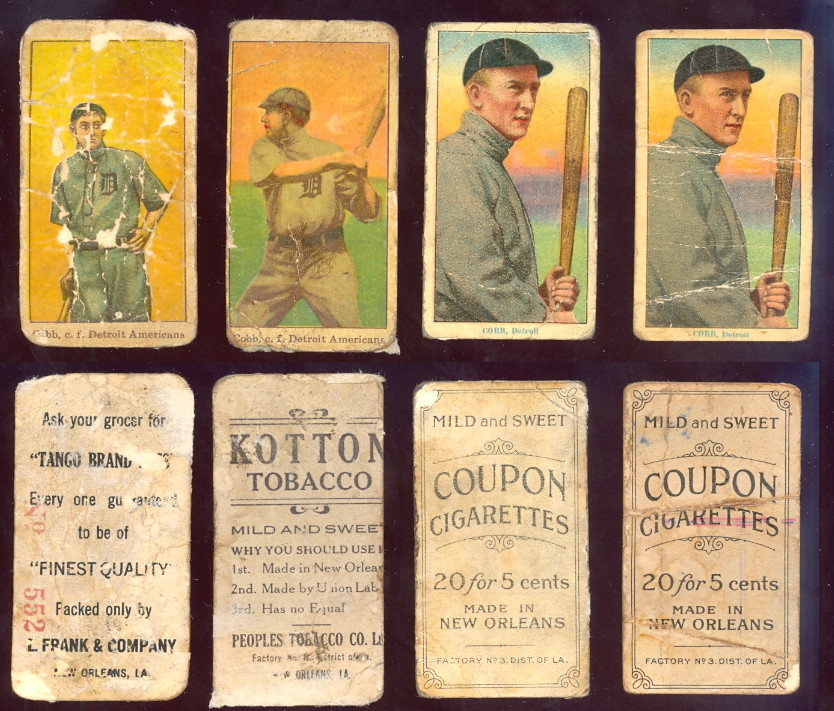 The T206 Ty Cobb with the prized "Ty Cobb" back, from Heritage Auctions:
Heritage sold a T206 Ty Cob Old Mill back bat off shoulder graded PSA 8 for $210,000.00 after 34 bids. Image below by Heritage Auctions:
T216 People's Tobacco (Kotton) Ty Cobb sold by Heritage Auctions:
The 1914 Cracker Jack Ty Cobb #30 PSA 8 tweeted out by Heritage Auctions: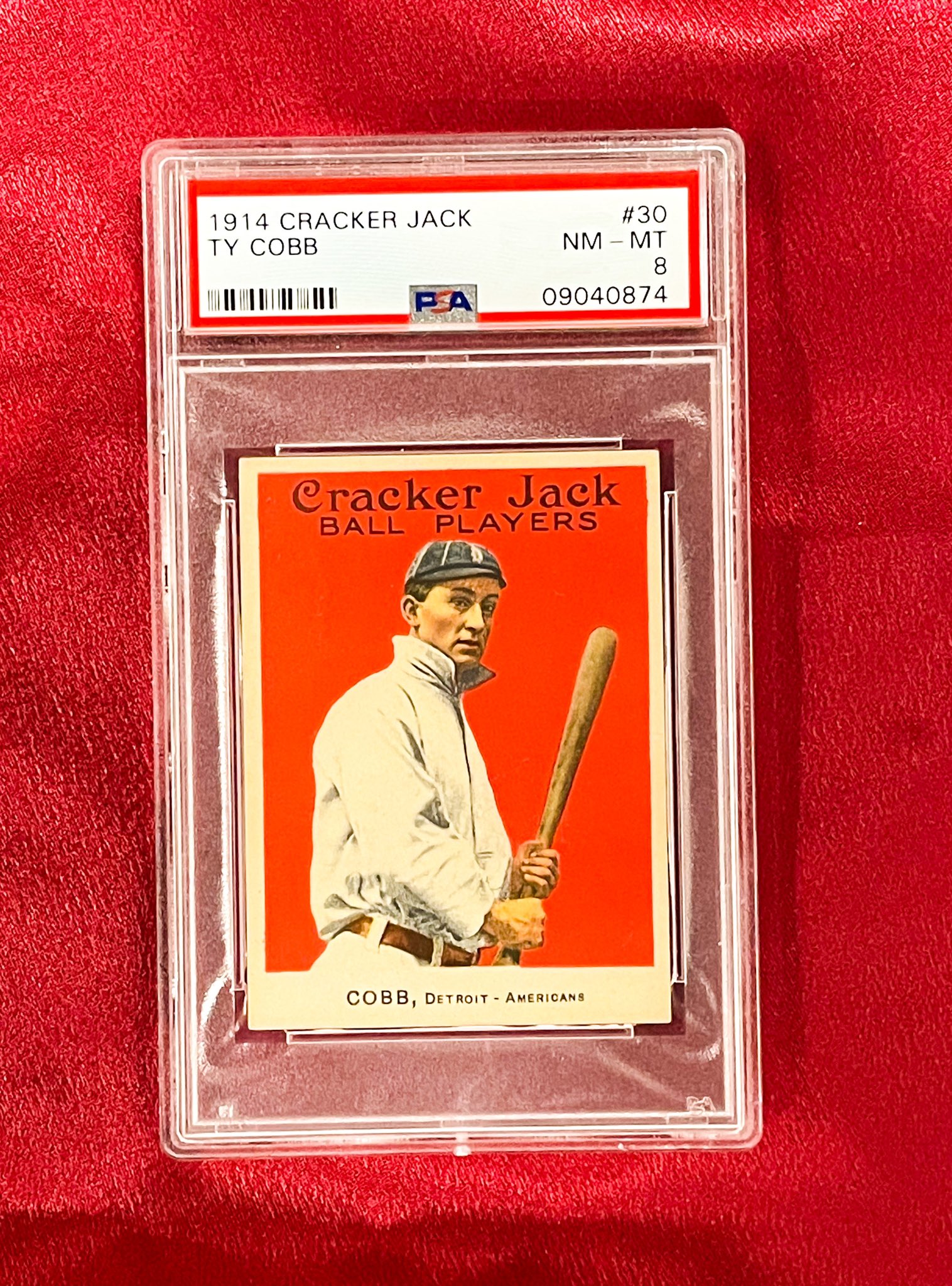 And for some other Ty Cobb items here and there…
@TigersHistory tweeted out the image of Cobb supposedly set to retire after returning from The World War, supposedly set to retire, but he played another 10 seasons (all above .300 again):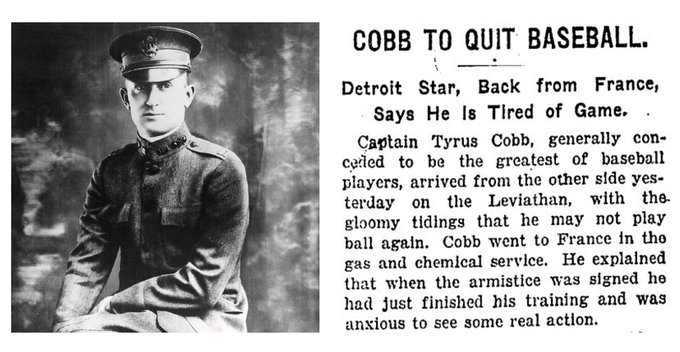 A GIF from MLB.com and 15 Ty Cobb Facts that baseball fans should know that may shed some light on his personality and his reputation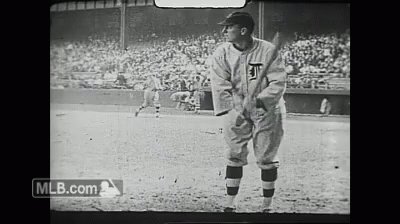 A personal check of Ty Cobb from First National Bank of Nevada dated August 20, 1948 payable to Steve Tarn for $94.50.
Ty Cobb 1914 to 1915 signed Detroit Tigers Player's Contract, sold by Heritage Auctions for $15,000 in total seasonal compensation.  Oddly enough, the contract itself sold for $348,000 at Heritage in August 2021 (Image by Heritage Auctions):
Ty Cobb stock certificates (he was quite adept in business over and after his career) sold by Sotheby's (Image by Sotheby's)
1923 German Baseball Ty Cobb Transfers (in reverse)