The hobby of vintage sports collectibles always has huge premiums for great cards of Babe Ruth, Jackie Robinson, Mickey Mantle, and the slew of rookie cards of Hank Aaron, Willie Mays, Roberto Clemente and others. Ted Williams and Stan Musial are undeniably some of the greatest hitters of all-time. World War II and the Korean War limited what would have likely been even greater stats for Ted Williams. And Stan "The Man" Musial was an all-around hitter with a consistent eye and a consistent average throughout his career.
Calling cards "undervalued" might imply that the prices can only rise. Even thinking of high-end collectibles as an alternative asset would make the notion of "prices can only rise" nothing short of a fool's gesture. Any assets can fall in price, even real estate.
What is hard to deny at this time is that Ted Williams and Stan Musial cards are under-appreciated versus many other great players from the 1930s and into the 1960s. Ted was enlisted as a pilot. And Stan was quite simply not appearing in many years of baseball cards. And then that 1959 Fleer set dedicated to the life of Ted Williams may have overly saturated the market for more expensive Ted Williams cards.
Let's take a look at some of the points which can help Ted Williams and Stan Musial both. Again, do not for a second interpret this as if their prices can only rise because that is simply not the case being presented here. Statistics concerning card prices and graded card populations were as of October 21, 2022.
TED WILLIAMS
The Splendid Splinter was easily one of baseball's greatest players ever. He was certainly that status since Babe Ruth. He was the last batter to have the magical .400 batting average for a single season. It is hard to fathom this when you evaluate his stats, but because of World War II and the Korean War there are almost 5 baseball seasons missing from his career between the ages of 24 and 34.
Ted's career ended with a miraculous .344 batting average. He ended with 2,654 career hits, had 1,798 runs, had 1,839 RBIs and 521 career homers. Imagine what almost 5 more seasons at the peak of his career could have translated into.
Ted Williams led the league in batting average in 6 different years. His career on-base percentage of .482 is still a record that holds up today — imagine almost every other time he batted he was getting on base. He also has a 122.0 WAR.
One issue that hurt Ted was his personality. He was in a constant fight with the sports writers. Frankly, he wasn't even exactly chummy with his hometown fans.
And for that Fleer set that flooded Ted's card market, this was my statistical tally as of August 2021: Fleer dedicated a complete set of 80 standard sized cards in 1959 to mark the capstone of Ted's career. It should be an honor and testament to have a full baseball card set dedicated to one ballplayer's career, but PSA alone counted a massive sum of 47,453 total graded examples and SGC counted another 5,800 graded examples. That's like all of the Topps graded examples combined!
The 1939 Play Ball Ted Williams card is considered his most common rookie card, and a PSA 4 in this card with decent centering is likely to cost $6,000 to $7,000. That's not bad considering there are only 1,025 PSA graded examples in all grades without the 143 "+" and 44 "Q" graded examples included.
Are Ted Williams cards undervalued or underappreciated?
STAN MUSIAL
Stan "The Man" Musial was one of the most consistent hitters of his era. He never even had a season under .300 until he was 38 years old. Despite playing before World War II and his only missing year being 1945 for the War, Stan Musial's most widely recognized rookie cards are not until 1948 despite a rare 1946 card.
One issue which may ironically hurt Musial card values is that there just were not many Musial cards printed. Musial has some missing Bowman cards but his Topps debut was not until the 1958 All-Star card and his first base card was not issued until 1959.
Musial ended his career with a .331 average, he racked up 3,630 hits, had 1,949 runs and 1,951 RBIs. Most of us do not think of Stan as a Home run hitter, but his 475 career homers and 25 homers per season average might have had him in the 500 HR Club had he had that extra year. Stan was on 20 straight All-Star teams, he was MVP 3 times, and his WAR of 128.6 was impressive enough.
The 1948 Leaf and 1948 Bowman cards are the recognized rookies, although the 1946 Propogandas Montiel is being skipped because of scarcity and since it was issued in Cuba. You might also go broke based upon the prices in the eBay image (below).
The 1948 Bowman has 1,679 graded examples by PSA before nearly 400 more cards with "+" and "Q" grades. A PSA 4 graded Musial will average around $1,400 at the current time, although the 1948 entire Bowman black and white set is known for cards looking more like mugshots than professional baseball player photos.
The 1948 Leaf Stan Musial card has only 942 base PSA grades of the Stan Musial card before another 203 cards with either "+" or "Q" examples. This card has a wider fluctuation in values but a PSA 4 should run $3,000 to $4,000 with some exceptions higher and some lower.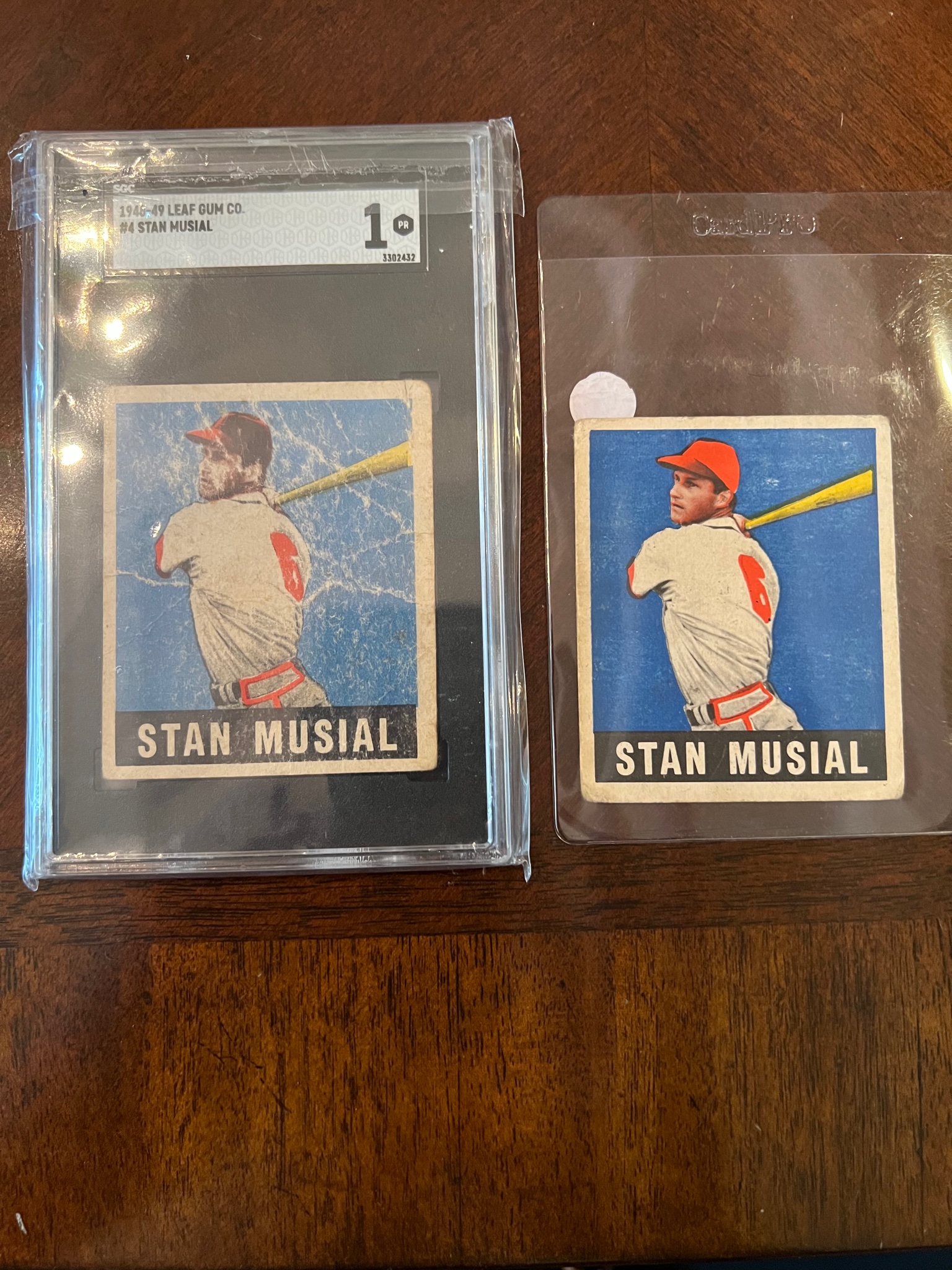 We found "the perfect Stan Musial collection" even before this review.
In the end, collectors who love cards should be buying cards because they love them rather than because they may rise or fall in value ahead. Not everyone can be a card dealer. And, unlike the flood of new cards, there are only so many examples of these cards out there that can be owned.