The year 2021 was a wild year for the collectibles industry. Modern era and vintage cards exploded higher after 2021, but the moves have been unilateral. Despite some cards having cratered since the February or March peak, many record-breaking prices continued to be seen over the course of 2021.
Collectors Dashboard wanted to review the top sports card sales of 2021. This piece comes with an admission up front. It is likely that some other top sports card sales may not have been recorded or captured during a tumultuous year. Reports of a private T206 Honus Wagner were widespread but we have not confirmed a price.
Collectors Dashboard evaluates high-end collectibles as an alternative asset class. The same capital that could have been invested into stocks or bonds is being used to buy high-end collectibles. True sports collectors and hobbyists have a passion to own certain cards or memorabilia for quite a long time. The investors competing for the same exact assets are solely buying to sell for a profit at a later date.
As with all investments, there are no guarantees for profits. in fact, many of the sports cards can lose value. And to prove the point further, some of these modern era card sales may already sell for significantly lower prices based on current player and market metrics. Some of the related cards are also already slated and have been previewed for the Top Items in 2022 Auctions.
Please note — If there are any errors, oversights or corrections that are needed, please send an email to "editor at collectorsdashboard dot com" and we will make necessary changes if needed. Due to formatting issues and due to some images not being available under copyright, we have excluded images from this report outside of the top winner. Goldin Auctions has sent in several key sales that also took place in 2001 after this published and they have been added below.
As items have been edited and added, this list of the Top 13 Cards Sales in 2021 has now risen to more than 13 sports card sales and auctions that were recorded by Collectors Dashboard in 2021. Again, there are likely other sales that may have slipped through the cracks,
The New Record-Breaker: $6.6 Million T206 Honus Wagner
A SGC 3 graded T206 Honus Wagner took the pole position again in 2021. The sale was by Robert Edward Auctions in August of 2021 and the $5.5 million sale price came to $6.6 million after the buyer's premium.
The $5.2 Million 1952 Topps Mickey Mantle
A 1952 Topps Mickey Mantle graded as PSA 9  fetched $5.2 million in January 2021. The card was a negotiated transaction via PWCC Marketplace and actor/entrepreneur Rob Gough was the buyer. It makes you wonder what that perfect PSA 10 might fetch if it came to market after being shown around the 2021 All-Star Game.
The $5.2 Million LeBron James
A 2003 Exquisite Collection Rookie Patch Autograph Parallel #78 /23 LeBron James BGS 9  was his personal best at  $5.2 million. This sale was through PWCC Marketplace in April 2021 and this took over the top spot for a basketball card record sale price (see below).
The $4.6 Million Luka Doncic
A 2018 1/1 National Treasures Rookie Patch Autograph Logoman  card of Luka Doncic sold for a "then" record-breaking $4.6 million. The New York Times has written that there are questions whether he or his mother actually signed the card, but that debate is for others to have. Still, not bad at all considering this had previously been part of a live pack-break.
The $4.3 Million Patrick Mahomes
A National Treasures Rookie Auto of Patrick Mahomes fetched $4.3 million in a sale between PWCC Marketplace and the buyer was said to be LJ's Card Shop in Albany, Ohio. Many more very limited editions of Mahomes rookie cards are in the Top 2022 auction items from multiple auction houses.
The $4.21 million Babe Ruth via Memory Lane
A 1933 Goudey #53 Babe Ruth card graded as PSA 9  fetched  $4.212 million (after buyer's premium) via Memory Lane, Inc. over the summer. The auction was a record for the "Yellow" example of four Ruths from the that 1933 Goudey set. It also pulled up the auction price of a PSA #181 Babe Ruth from the set as it fetched $1.72 million. A 1916 M101-4 Sporting News Babe Ruth PSA 6 also sold for $1.452 million. All three cards were from the late Dr. Thomas Newman.
A $3.66 Million T206 Honus Wagner
In May of 2021 a T206 Honus Wagner graded PSA 2 was sold via Goldin Auctions for $3.66 million. At the time, this was a record for Honus in any condition at that time, but that was later broken (see above) with a new record later. This card as also listed as "Fresh to the Hobby" in the description (Image below by Goldin Auctions)
The Wayne Gretzky rookie for $3.75 Million
A 1979 O-Pee-Chee #18 Wayne Gretzky graded a perfect PSA 10  fetched  $3.75 million in May of 2021. This was a privately negotiated transaction and it just became the world's most expensive hockey card on record in a Heritage Auctions sale. This shattered the prior sale of about $1.3 million for an O-Pee-Chee rookie card of Gretzky. The Heritage Auctions image below was actually from the December 10, 2020 sale of $1.29 million.
A Tom Brady Rookie for $3.1 million
A 2000 Playoff Contenders Championship Ticket #144 Tom Brady (/100) graded BGS 9  fetched  $3.107 million via Goldin Auctions and broke its own prior records multiple times.
The $2.7 Million Michael Jordan Card!
Goldin Auctions sold via its Private Sales Division a 1997-98 Upper Deck Game Jersey game-worn patch card of Michael Jordan that also had an on-card autograph for $2.7 million in October 2021. (Imaged by Goldin Auctions)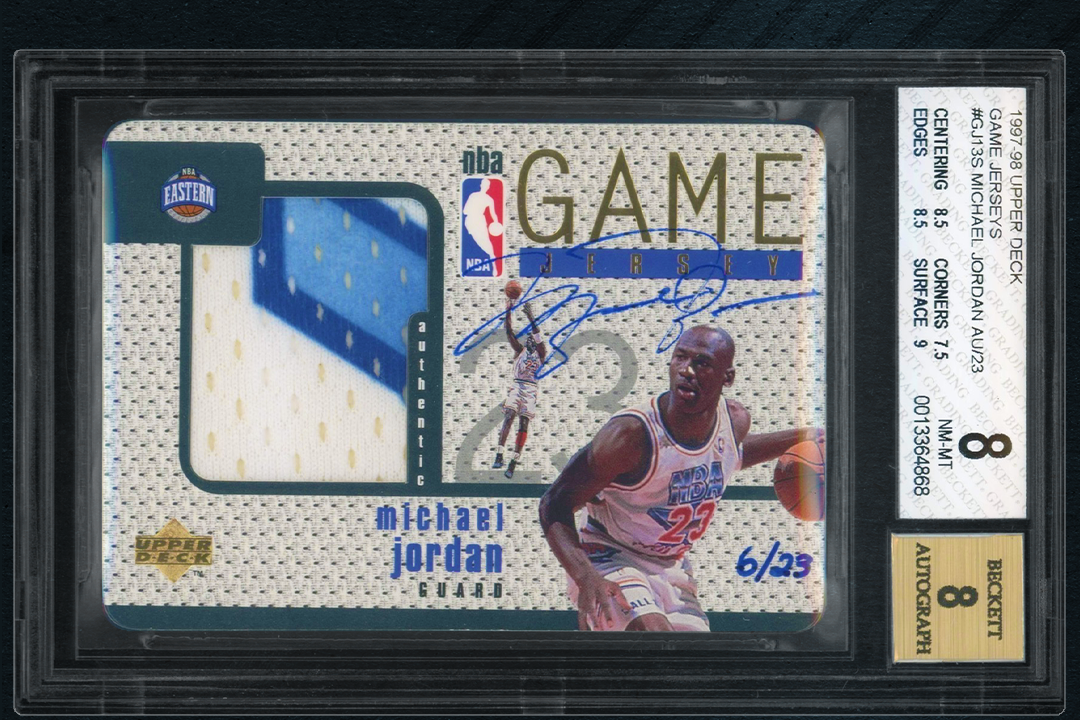 A $2.4 Million Babe Ruth Rookie!
Mile High Card Company sold a 1916 M101-4 Sporting News #151 Babe Ruth blank back graded PSA 7 for $2.4 million (Image below by Mile High Card Co.). The November 2021 auction had 43 bids and this compared to a prior sale of a PSA 6 in the Newman Auction (above) from Memory Lane with a final price of $1.452 million. Another PSA 6 sold through Memory Lane (March 20, 2021) with a different certification number for $940,831.20. Even at this whopping price, is it still undervalued?
A $2.4 Million LeBron James
There was also a Goldin Auctions sale of a 2003-04 UD "Exquisite Collection" Exquisite Rookie Patch Autograph #78 LeBron James Signed Patch Rookie Card (#23/99, or LeBron's Jersey Number) graded BGS NM-MT+ 8.5/BGS 10 which sold for $2.4 million after the buyer's premium. (Imaged by Goldin Auctions)
Another Tom Brady for $2.25 Million
A Playoff Contenders Championship Rookie Ticket Tom Brady Autograph #144 (/100) graded BGS 8.5 sold for more than $2.25 million via Leland's in April of 2021. This also shattered its own record prices.
Michael Jordan Fetches $2.05 Million!
Goldin Auctions also sold a 1997-98 UD "Game Jersey" #GJ13 Michael Jordan Signed NBA All-Star Game Used Patch Card (#21/23) – PSA NM-MT 8, PSA/DNA 9 was shown to have $2.05 million sales price after 15 bids.
A $2 million LeBron James by Goldin Auctions
2003 Exquisite Collection LeBron James #78 /99 graded BGS 9 sold for $2.03 million after 22 bids via Goldin Auctions. Another example of this card had just fetched over $1.7 million in April.
And Lastly, A Ty Cobb Extravaganza Too Big to Ignore…
While this was not for a single card, the Ty Cobb auction from Heritage Auctions delivered one of each type of T206 variations of Cobb and other Cobb cards. It fetched over $2.6 million all combined.
******
Again, some cards were added to the list of top card sales in 2021 and more may be added if they were overlooked or were not well publicized. This all adds up to one question. Will there be a single sports card sale that breaks the $10 million barrier in 2022?